What is Twelve Sky 2?
Edit
300px|left
Twelve Sky 2
is a massively multiplayer online role-playing game (MMORPG). Twelve Sky 2 is produced by ALT1 formerly known as Gigassoft and published around the world by various game publishing companies. Released in Korea around 2008, TS2 have spread west and is considered a sequel or a remake to the game Twelve Sky 1 which have already been published in the Western world. Twelve Sky 2 was extremely popular in the beginning at its release in Korea with a large amount of servers. However the numbers of servers have decreased. In the west, a large community has already been made by veterans and fans of Twelve Sky 1, waiting for the release of Twelve Sky 2.
Gameplay:
Edit
Twelve Sky 2 requires the player to create a character from one of three clans. With limited customization, only the hair and face can be customized, you also choose a starting weapon. Visit the clan pages for further information.
After the creation of your character you will be teleported into the starting city of your clan. There is no tutorial, you are to leave town and fight off the lower level monsters, and there are also mini-bosses for new players. Fighting monsters will gain you drops and experience points which are required to level up for further progression in the game. Quests will also be notified and given. Completion of quests give either experience rewards, item or cash. Level determines the equipments you wear, and leveling will grant you stats points and skill points for usage.
Unlike most MMORPGs you can experience PvP at the level of 10. For more information of wars visit the war pages.
Twelve Sky 2 functions like any other MMORPG.
Graphics:
Edit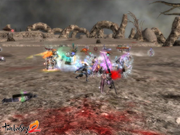 Twelve Sky 2 have improved its visual appearance from its prequel Twelve Sky 1 and is considered up to date with most of the free online games.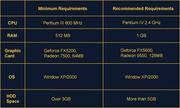 System Requirements:
Edit
Please see picture. Twelve Sky 2 also works with Window Vista and newer integrated graphics. But if you want to play on highest graphic settings you need at least 1GB free RAM and 512MB or more on graphic card. Sometimes 1024MB on graphic is not enought on crowded places.